Back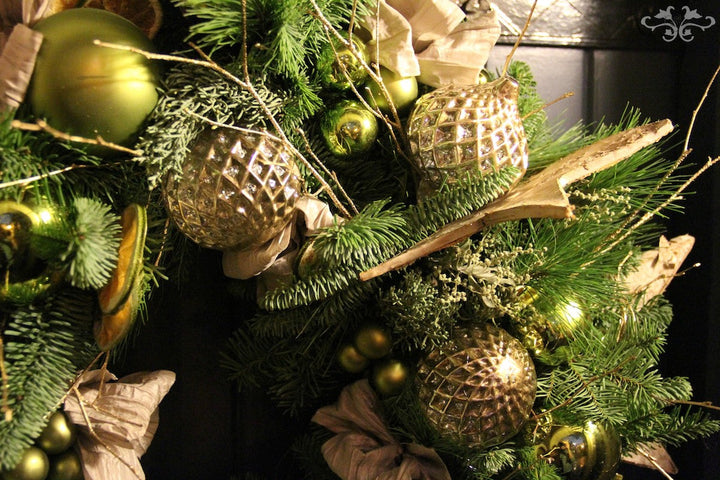 A World of Wintry Wreaths for Christmas - and how to make your own
The Christmas Wreath is perhaps the most essential item of all Christmas decorations.  Neill shows us different styles of wreaths and, for the hands-on, gives us a Step By Step on how to make your own...
The Christmas Wreath in all its forms and all its splendor is undoubtedly the first and foremost Christmas decoration. Whether it proudly hangs on your front door to welcome family and friends, or sits on your dining-room table ablaze with bright, twinkling candles, this circle of seasonal florals sets the tone for celebration. Neill shares styles, stories and offers us Step by Step instructions to make your own.
At the Flower Lounge in Belgravia, it is our Christmas wreath that is the most popular Christmas decoration with our clients. As a hanging door wreath, as a table decoration or as an Advent Ring, our wreaths are bespoke and densely decorated, designed to be pure and elegant, gorgeous and glamourous, organic and opulent, or any other style that will make them unique and personal. Is it really just the beauty of these wintry wreaths with their bouquet of forest pine and tangy orange that is homogenous with Christmas? Or is there something hidden in history that has, by most, long been forgotten...
Wreaths have a long history in civilization dating back to Etruscan times, almost 3;000 years ago when the "eternal circle" was recreated in gold and precious metals as jewelry. The Greeks and Romans introduced wreaths made of fresh plant material, the most remembered being those of Laurel which signified victory and achievement, crowning the heads of victorious athletes. Harvest wreaths also began in ancient Greece; rings of Wheat entwined with red and white wool yarn hung on doors all year round, or a wreath of Olive or Laurel was believed to protect the people from crop failure or plague.
The first association of a wreath with Christmas was by Lutherans in Germany in the 16th century. Later, in 1839, a cart wheel was used to explain to children the meaning of Christmas and to count the approach of the long-awaited day. White candles marked the four Sundays leading up to Christmas Day and red candles marked every other day. Each day a new candle was lit and hence became the origin of what we call today the Advent Ring. These are particularly popular in Germany although only four candles are used - to be lit on the four Sundays prior to Christmas. In Sweden, the Crown of Saint Lucy (Santa Lucia) is another style of Christmas wreath adorned with many candles.
The symbolism of the wreath is rich. The evergreen foliage represents everlasting life... In days gone by, it was believed that evergreen trees possessed magical powers that allowed them to withstand the harshness of cold winters! The foliage also bears the meaning of everlasting life brought by Jesus when used in a Christian funeral wreath. The circle is a sign of God with no beginning and no end and also implies eternal life.
So what better way to celebrate Christmas and eternal life amongst one's loved ones with an exquisitely decorated wreath, either on your front door, on a table, or both created with a vast array of winter foliages, from blue-hued Blue Spruce and scented Scotch Pine, to Eucolpytus with its gorgeous berries and Myrtle or Laurel... For an organic look, we add Cinnamon sticks, spiky twigs, nuts, fruit, pine cones and unusual berries in bright red, silvery grey or soft black. For chic and glamour, we have baubles, bright or subtle, shiny or subdued. For elegant and pure, we have clear glass ornaments, snowy white Birch, blooms of white Roses and Cymbidium Orchids... And all topped with a silk or organza ribbon that cries out Floral Couture. Do drop by the Boutique and have a look!
For those of you who would like to make your own, I will now show you how we created the table decoration wreaths for the recent Belgravia Ball at the Jumeirah Carlton Tower Hotel.
You will need :
Oasis Ring (12, 14 or 16 inch); Birch wood cut in approx 2 x 4 or 5 inch pieces; Blue Spruce; Scotch Pine; 1-2 stems Brunia Berries; 1 stem Eryngium, 6-8 stems white Avalanche Roses; 4-6 stems white Chrysanthemum blooms; 8-10 white Carnations or Renunculus; 1 stem mini white Cymbidium Orchid; snowy accessories and candles of your choice; florist scissors, a glue gun and snow spray.
Wet the Oasis Ring by emersing it in a bucket or sink of fresh, cold water. Don't push it in, let it gently soak up the water at its own pace. Once soaked (about 5 minutes) drain off the excess water.
With a glue gun, carefully glue the Birch pieces onto the side of the ring slightly overlapping each piece until the Ring is completely covered. Make sure the bottom edge is even so it will stand securely on the table; the upper edge looks best uneven.
Place first the Blue Spruce; then the Scotch Pine, to cover most of the oasis foam. Remove the foliage from the base of the stem so that you have at least 1/2 inch of clear stem to push into the oasis, preferably placed at an angle. Add periodically a few stems of the Eryngium and Brunia Berries.
Now add the fresh blooms grouping them in 2's or 3's. Cut the stems short and at a sharp angle to allow maximum exposure to the wet oasis. If you use Cymbidium Orchids, these must be placed in a narrow plastic tube of water (available from your local florist) which is then positioned into the oasis. Remember your guests will be viewing your wreath from the side at eye level when they are seated, so check your placements regularly from the side view.
Add your final accessories and candles. Spray a light layer of snow over the foliage and flowers if desired. A large church candle placed in the center of the wreath in a "hurricane vase" was our choice of candlelight for the Belgravia Ball.
If you have any difficulties making your wreath, don't hesitate to give us a call. Preparing for Christmas should be enjoyable like an aperitif before dinner; so enjoy! If you would rather we make a wreath for you, just tell us your preferred colour scheme, style or theme and we will be delighted to create a living work of art to make your festive celebrations even more special this Christmas.
And on that note, may I wish you all a very Merry Christmas.
Festively, florally yours,
Neill x