Sustainability
At Neill Strain Floral Couture, our entire team is passionate about nature and the flowers with which it is always magically providing. We are extremely conscious of the current global warming crisis and minimizing our carbon footprint. We want to help secure a safe environment and healthy future for our extraordinary planet, working solely with growers and suppliers who take sustainability extremely seriously.

Our Growers
The use of energy, pesticides and all polluting materials is highly controlled in Holland. Our growers are all registered with the government agency that supervises and rates their sustainability and activities which affect the environment. We only work with growers that are classified A or A+ and are conscious of constantly trying to improve this.
Furthermore, due to our unique way of sourcing flowers, the growers select and pick our blooms to order and send them immediately to us so that no energy is wasted storing and refrigerating these flowers before delivery.
Learn More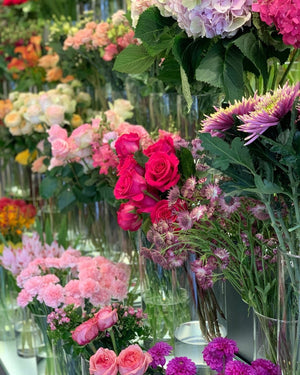 Five Year Goal
At our Belgravia boutique and Harrods concession, our focus on sustainability is an ongoing project with a goal to be fully sustainable within five years.
We avoid floral foam as much as possible by learning and introducing new techniques to create our magnificent displays without it; we don't refrigerate our flowers to avoid wasting energy, and by buying our blooms so exceptionally fresh, their longer vase life is also positive. Naturally we use all LED lighting and we are planning to soon move to electric vans for our delivery service.