Back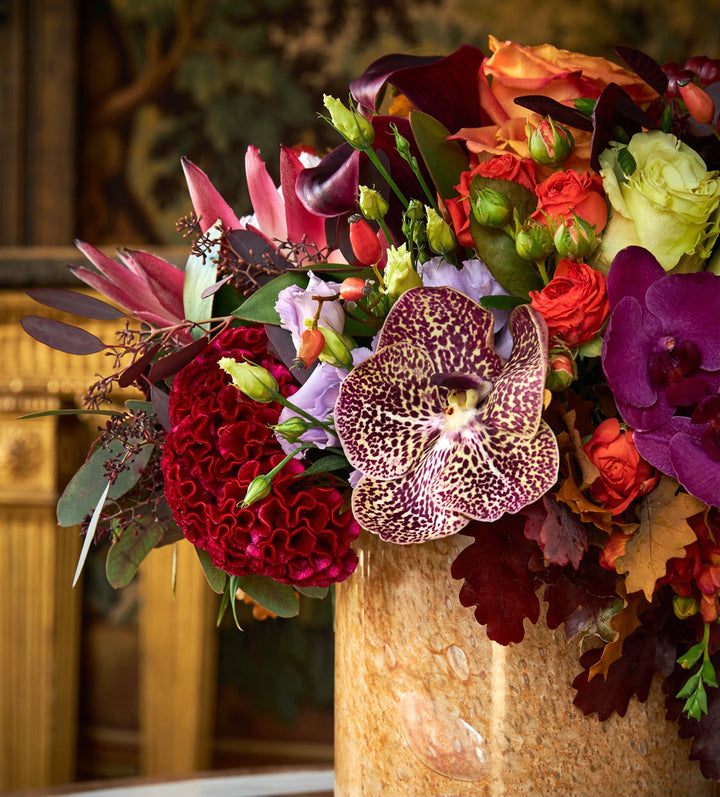 Introducing our new Autumn Collection "Ode To Autumn"
Neill shares fascinating stories behind his own inspiration for his new Autumn Collection "Ode To Autumn" as well as exciting information about the exceptional flowers he sourced for the new designs.
There is no season better than Autumn for colours and textures both in our gardens and at my talented growers' farms in Holland and beyond. The earthy tones and vibrant blazing hues along with the rich and distinctive textures of the season's berries, foliage and magnificent blooms make designing the Autumn Collection one of my favourite moments of inspiration and creativity every year. 
For this Autumn, I was able to source some incredibly beautiful and rare blooms from our growers - which I will reveal shortly - and the mesmerising mix of their colours and textures was so impactful that it reminded me of the emotion and sensuality of Keats' verses in "Ode To Autumn" celebrating so eloquently the beauty of the season. Hence, this year's Autumn Collection I have named "Ode To Autumn."
Written in the Romantic period in 1819, British-born Keats' series of Odes, and "Ode To Autumn" in particular, express extreme emotion depicting natural imagery of birds, plants, animals and trees, heavily loaded with sensuality.  With my floral bouquets and arrangements, I have endeavoured to portray the intense romance and feeling of Keats' poem and give the experience of a lyrical journey of the senses. 
The "Ode to Autumn" Collection comprises a Hand-Tied Bouquet (in 3 sizes), magnificent table arrangements, A Petite Couture gift set with fragranced 'Verdure' candle, an Orchid Planter, our popular Pumpkin arrangements and 3 new items: a spectacular Autumnal door wreath, a collection of glass bud vases containing exquisite seasonal blooms and a permanent botanical arrangement made with 'faux' flowers so real that no-one would ever know.
Our designs are created on a backdrop of stunning seasonal foliage and richly textured berries, embracing the landscape of our Autumn gardens and hedgerows, but it is our exceptional Roses and Orchids that take centre stage. 
I sourced some stunning Roses this year. The 'Moab' Rose is frankly a superstar! The massive head size and rare, slightly brown pigment with tan undertones and silky petals show the exceptional quality of this new, exquisite beauty from our Ecuador grower, Rosaprima. These Roses grow outdoors in Ecuador, in very limited quantities, enjoying the highly fertile, volcanic soils on sunny south-facing slopes. Rosaprima are dedicated to growing the most luxurious Rose varieties in the world. Founded in 1995, they now have 1600 employees worldwide and have their own unique way of selling their remarkable Roses direct to clients. I am privileged and extremely happy to be their client and have this rare, spectacular Rose in our Autumn Collection. 
Another fabulous Rose included in the designs is 'Silantoi' from Farm Direct who specialise in rare varieties of Roses, Dianthus and Spray Roses from Ecuador and Kenya. They are a small company with only 5 employees but very exclusive, rare blooms. This vibrant Rose is extremely rare and has a stunning mix of bright orange and yellow colours, traditionally shaped, beautifully Autumnal and a perfect match for our Collection.
A pale green, large headed Rose, 'Wasabi,' also from Ecuador, is another special Rose available in only limited quantities to a few florists worldwide, with its unusual petals and a traditional garden Rose shaped head.
While these 3 Roses grown in Ecuador might not appear to follow our dedication to sourcing our flowers sustainably, in fact their carbon footprint has become lower than growing Roses in the Dutch glasshouses during the winter months due to the lack of availability and high cost of fuel in the Netherlands today. 
We have one exquisite Dutch orange Spray Rose, 'Amata,' from De Opstal, a Holland-based grower specialising in Spray Roses, with 20 different varieties most of which are exclusive. There are only 3 Spray Rose growers in Holland today and orange Roses are generally not common. This 'Amata' Rose has smaller heads and a brighter orange colour than most. It was introduced on the market only 2 years ago and is available in only limited quantities. So another rare Rose in our Collection! I love the blazing sunset colour of these blooms in contrast with other more earthy tones. 
Now for the Orchids... The absolutely stunning Vanda Orchid 'Ocelot Sienna' has an unusual earthy tone with its maroon brown spots. This rare Vanda Orchid has been selected from the "testing varieties" section of Ansu's massive glasshouses, where new varieties originally bred in Thailand are tested. These new plants are tried for 3 years before Ansu will produce additional plants - and only if they pass all the tests! Originating from the Sunanda family of Vandas, this Orchid has a special colour and is extremely rare.
The other Orchid in our Autumn arrangements is the Phalaenopsis 'Montreux Tak' from Ichtus Flowers. One of our oldest suppliers, Ichtus Flowers is the leading Phalaenopsis grower in Holland today. This mini-Phalaenopsis has the darkest purple colour and although on the market for 10 years, supplies are extremely limited and reserved for only exclusive clients.
Beyond the dramatic Roses and Orchids, we have some additional spectacular blooms which further enhance the texture, depth and intensity of colour of our designs. 
One that pops out for its deep bright red colour, is Celosia Argentina 'Act Dara.' Known as the "Dragon Flower" with a shape reminiscent of a human brain, Celosia are grown in the Netherlands and became popular only 10 years ago.  Originally the vase life of these unusual looking flowers was not sufficient, very short, but breeders managed to improve this with cross-breeding and today Celosia have a perfectly acceptable vase life and add quite a distinctive texture and shape to any arrangement.
The delightful Dianthus 'Dafne' brings us its glorious fluffy texture and sweet peachy-apricot colour, from our Dutch grower who specialises in only rare varieties of Carnations. The wonderful, pale Lavender Lisianthus, "Lisanne," is also grown in Holland by a grower who produces his own energy by pumping up water from 80m below ground where the water is hot and using this heat as energy before returning the water back underground. As such, Van Der Lugt's beautiful double Lisianthus with its curly petals and very rare colour is a delight we can enjoy all year round. 
I discovered a stunning Calla Lily from our Dutch grower Future Flowers. With a large and very dark purple bloom marked with darker tints and tones down the centre, 'Rudolph' creates an emotion in our designs for its impressive colour and silky texture. Calla Lilies don't require a lot of energy to grow and therefore we can source this beauty throughout the winter, although very rare and only small quantities are available each week.
The Autumn berries and foliage also play an important role in the seasonal look of our designs: purple Eucalyptus, Cotinus, Oak, Rose hips from our Valentine's grower Van Der Drift, as well as the purple berries of Calicarpa and the orange lanterns of Physalis in the tall arrangement.
I think the glassware and ceramic pots are also quite exceptional in this new Collection. The hand-made mouth-blown glass vases for the tall arrangements from Fidrio in Italy are some of the finest glassware available today. While the glazed, ceramic pots with their unusual shape and mixed autumnal colours for the Orchid planter and Petite Couture arrangements are equally special.
This year we introduced 2 new designs, glass bud vases which are an elegant way to show off our extraordinary blooms individually, and the "Ode To Autumn" door wreath, created with an opulent display of dried and faux flowers, berries and foliage with mini Pumpkins, Pine cones, Rose Hips, fern and much more. For Thanksgiving or any harvest celebration of the season, this wreath captures the full beauty and richness of the fruits of nature
Last but not least, our Pumpkin arrangements continue to be a favourite for Autumn and I hope you will enjoy our choice of precious blooms for this year's designs.
Our Autumn Collection will be available for the next month and I hope it will bring you as much pleasure as it did me while creating it. Please visit us at the Belgravia boutique and enjoy the extravagant Autumn installation we have prepared for you.
Autumnally yours,
Neill x