Back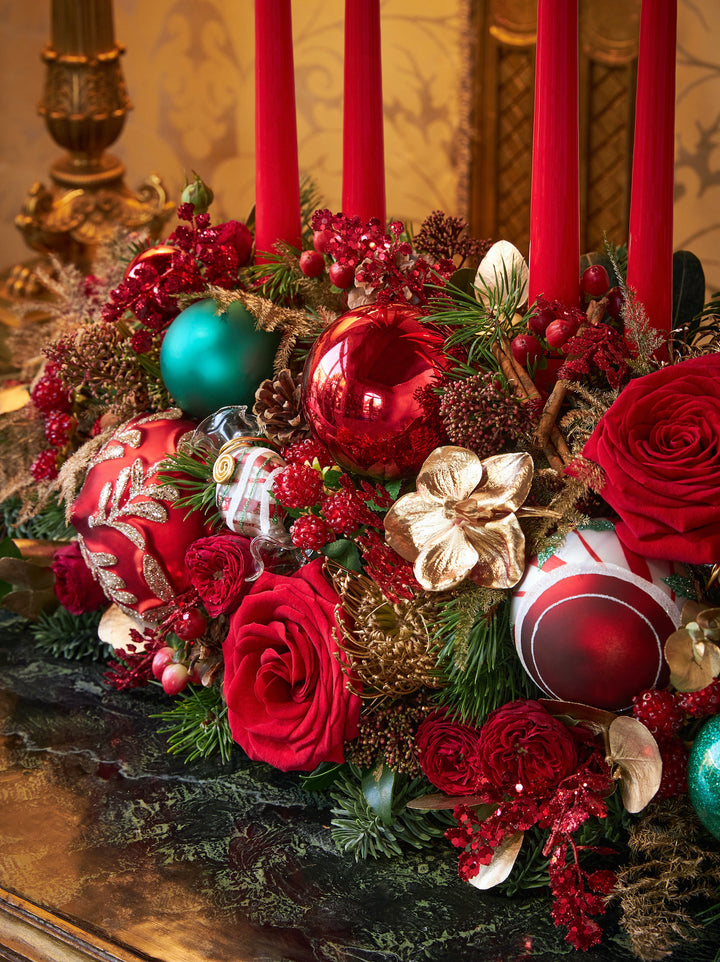 Neill Introduces his 'Christmas Carol' Collection for the 2023 Festive Season
Named after and inspired by traditional Christmas Carols, Neill's new Collection of festive decor for Christmas 2023 is one of his most luxurious and extravagant to date. In this blogpost Neill reveals the designs and shares with us his inspirations, the fresh flowers, sourcing ornaments and the stories behind each work of festive floral art carefully created to make this Christmas an unforgettable occasion of beauty, joy and refinement.
Every Christmas is a time of celebration, joy, reflection and family fun - emotions that I contemplate and consider throughout the entire year while dreaming, looking for inspiration, preparing and sourcing all the elements needed for our new Christmas Collections before the big moment arrives when we create the designs. 
This year I have been inspired to bring back the feelings of my childhood Christmases; traditional and playful, albeit in the opulent, luxurious, sophisticated style of Neill Strain Floral Couture. Singing Christmas Carols was part of my youth and has proved a source of creativity for each design and festive decor. Hence, this year's Collection is entitled 'Christmas Carol,' comprising 6 door wreaths, hand-tied bouquets, table arrangements - from Petite to very tall, Santa's Boot (following it's outstanding success from last year), a candle arrangement, Orchid and Amaryllis planters as well as our very own 'Christmas Eve' fragranced candle. 
Christmas Carols have been sung during Christmas in the U.K. since the 14th century although their popularity grew in the 19th and 20th century when most of the carols we know well today were written. Our most quintessentially Christmas wreath, traditionally coloured red and green, is entitled 'Christmas Carol' and expresses the mood of our entire Collection. Luxurious and elegant, exquisite baubles and glass ornaments sourced especially across Europe are cradled on a bed of fresh green Pine and Blue Spruce, with Fir cones, berries and Cinnamon sticks adding to the olfactory sensation, topped with a satin ribbon and diamanté tassel.
Sparkling like crystal, our golden "Gloria" wreath is named after the Christmas Carol "Ding Dong Merrily On High," which was written by G.R. Woodward in the early 20th century to a 16th century theme composed by a French cleric, Thoinot Arbeau. The famous chorus "Glo-ri-a!" joyfully celebrates the birth of Jesus. Baubles in frosted white, sparkling champagne, intricately decorated glass and glittering with gold are enhanced with gold dipped Pine cones and glittering foliages, capped with an ivory satin ribbon with a gold lining and a majestic gold and diamanté tassel. This door wreath has an angelic magic about it inspired by my vision of golden-clad angels singing "Gloria! Hosana in excess!"
In an unusual palette of gold, turquoise and violet with a touch of orange, our "Cherubim" wreath expresses purity and grace evoking a sense of serenity and harmony with childish innocence, as symbolised by the celestial "Cherubim" angels mentioned in so many Christmas Carols such as 'See, Amid The Winter's Snow.' With finesse and refinement, decorations include intricately styled baubles, delicate faux flowers, sequinned blue foliage, gold and violet leaves carefully crafted onto a circle of naturally scented Scotch Pine and Blue Spruce. A richly embroidered and sequinned ribbon completes the opulence of this design.
Named after the Welsh Christmas Carol "Deck The Halls," this natural looking door wreath is decked with mini wooden Christmas Trees, Cinnamon sticks, Pine cones, dried fruits and berries on a Scotch Pine and Blue Spruce base, reminiscing the decor with which our ancestors decorated their homes for their Christmas celebrations. This traditional Welsh Christmas Carol "Oer yw'r gwr sy'n methu caru" (Nos Galan), specifically sung on Christmas Eve, was composed by Jones in 1784 and translated into English by John Oxenford. Manifesting the true scents and fragrances of Christmastide, this thickly layered and richly decorated door wreath is embellished with a luxurious red and gold patterned ribbon.
Inspired by the Dance of the Sugar Plum Fairy from the famed Tchaikovsky's story of Christmas, The Nutcracker, this playful door wreath is a colourful display of fun and games including the much sought-after Christmas Elf who reportedly reveals to Santa each night which children are being naughty or nice. For those playing Elf on the Shelf, this is a unique way to introduce your Elf to the family! In a joyful mix of turquoise, green, pink and violet, our 'Sugarplum' wreath includes frosted pink and luxury, shiny baubles, 2 Santa Claus, glass candies, bells, a porcelain Gingerbread man, glittered foliages and the mischievous Elf, crowned with a lavish bow in 3 colours. A childish, feminine yet infinitely elegant and opulent expression of the sweetness of the season.
Our 'Royal Rhapsody' wreath was created especially and exclusively for Harrods  to complement the extensive Christmas decorations that we designed throughout the iconic store. As with the Harrods Christmas Bear, our Harrods Christmas wreath is an exclusive creation, changing annually, to capture the magic of each year's festivities and allow clients to bring a touch of Harrods' magnificent decor into their own homes. In musical terms, a Rhapsody is described as an expression of powerful feelings and emotional excitement. The grandeur and decadence of this "Royal Rhapsody" door wreath, with its incredibly rich Burgundy and crimson tones, lavish displays of gold and abundance of enticing textures certainly evoke emotions of elation and delight. 
Note all our wreaths are hand-made by our talented team, are available in fresh or faux foliage and can be delivered throughout London or shipped anywhere in the U.K. in our beautiful, protective wreath boxes. 
The hand-tied bouquets and arrangements in our Christmas Carol 2023 Collection include, as always with our designs, some very special and rare fresh flowers sourced especially for us from our extraordinary growers.
The very best Red Naomi Roses from Van der Drift, the same beauties that we use for Valentine's Day, a dark red, big-headed Spray Rose "Maroon," a new Spider-Gerbera called "Premiere," variegated Eunonymous with its lovely white and green markings, magnificent large Cybidium Orchid heads from our specialised Dutch grower, Red Magic Vanda Orchids dipped in gold for extra glitz, as well as  Luecospernum, Hydrangea and Asparagus Fern also dipped in gold alongside layers of seasonal foliage and berries. What a perfect combination of fresh seasonal flowers with a touch of festive cheer!
Delivered in our luxurious packaging, our 'Christmas Carol' hand-tied bouquets, showcasing these exceptional blooms, make the perfect gift throughout the festive season including the run up to Christmas. They make a stunning decoration for the home and a delightful gift elegantly suggesting the joy of the season.
Our table decorations, a low dome-shaped design and a very tall, front-facing arrangement, are both show-stoppers due to their extreme opulence, size and finesse. The grandeur, richness of colour, beauty of the fresh flowers enhanced by our exquisite baubles and glittering faux fruits and foliages, make these designs quite mesmerising and a focal point of your festive decor. 
Candle arrangements, including elegant, tall, tapered candles include the Petite Couture designs (medium and large) and a magnificent long and low arrangement measuring either 80cm or 120cm with 6 or 9 candles protruding from a bed of our fabulous fresh flowers and seasonal foliage. Our porcelain Santa's Boot is also filled with fresh flowers and baubles and is the most festive of our arrangements as well as a fun gift. 
Our long-lasting Phalaenopsis and Amaryllis planters are also fabulous decorations and gifts. The 2 or 6-stemmed Phalaenopsis Orchid decorated with gold twigs and baubles sits in a magnificent gold, ceramic pot with intricately rippled sides while the double-stemmed Amaryllis bulb gives birth to 6 massive red blooms that will surpass the tall glass vase in which it sits on a festive bed of gold pebbles, baubles, Cinnamon sticks and Pine Cones.
To complete the sensation of Christmas, don't forget to order our wonderful "Christmas Eve" fragranced candle graciously presented in our new packaging. This limited edition luxury candle will give approximately 45 hours of light and the traditional scents of clove, cinnamon, orange peel and pine with oak moss and musk for an uplifting allure.
I hope you will enjoy our 'Christmas Carol' Collection for 2023 and with our online ordering and London delivery service, I promise you that decorating your home for Christmas can be easy and straightforward. Nevertheless, if you prefer we take care of all your decorating needs, including Christmas trees, in any special theme or colour that suits your taste and interiors, please contact us directly. Pop into our Belgravia boutique where we have an extensive array of displays to inspire you, not to mention our exterior installation, or visit us at our concession at Harrods. 
We look forward to hearing from you soon.
Seasons Greetings,
Neill x