Back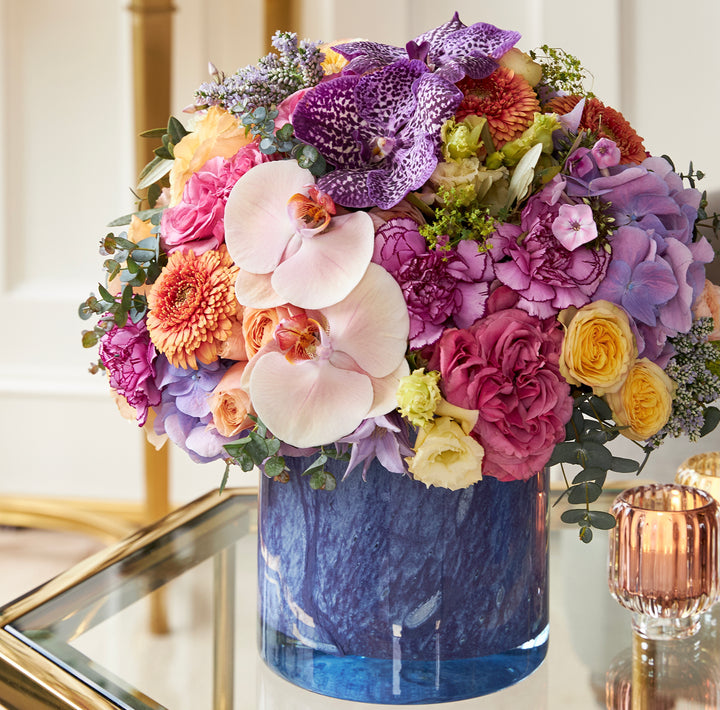 Introducing Our Summer Collection 2023
Neill introduces us to the new designs in his magnificent Summer Collection 2023 and shares his "Ocean Sensation" inspirations for the Collection, as well as his display for Belgravia In Bloom, following a recent snorkelling visit to the Maldives.
Every season I create a new collection of designs for our online store inspired by the flowers, gardens, travels and any stimulating discoveries I encounter in my everyday life. Last winter I went on holiday in the Maldive Islands and had the amazing experience of snorkelling in the coral reefs of the Indian Ocean. I was truly moved by the diversity of this underwater world, the captivating beauty, vibrance and richness of aquatic life in the tropical waters and it is my souvenirs and impressions of these colours, textures and shapes that inspired both our installation for Belgravia In Bloom and our Summer Collection 2023.
Our Summer Collection, entitled "Ocean Sensation" combines brightly coloured blooms like Anthuriums and Orchids together with more subtle and unusual shades of Roses, Hydrangea, Phlox, Germini and much more, all reminiscent of the tropical fish and aquatic life I experienced in the Maldives, to create a visual sensation of the Ocean and its magical underwater world. I also chose a stunning range of artisanal, mouth-blown vases in shades of blue with random shapes and lines that cleverly mirror the ocean's movements, intricate pockets of glass bubbles that replicate those created by the sea life swimming and swaying underwater.
 The Collection comprises 4 sizes of hand-tied bouquets available with or without the glass vase, an imposing tall arrangement, an opulent low table arrangements, our Petite Couture gift set with fragranced candle "Cassis Noir," a particularly rare Phalaenopsis Orchid planter and, for the first time, a stunning arrangement created with our luxury faux flowers that will resist the test of time.
As with all our design work at Neill Strain Floral Couture, most of our blooms are rare, exclusive and many have a special story to be told… 
One of our favourite Rose suppliers, Voorn, works very closely with the breeder, Interplants, which is why they have the newest and most unusual varieties available for us. They have created a new range of Spray Roses, "Trendsetter," which unlike the traditional Spray Roses that have many small buds per stem, boast 5 larger blooms on each stem in the romantic Garden Rose style. I selected the yellow 'Yoga' Trendsetter for our Collection. In former years, Spray Roses were quite rare and rather delicate but over the past 20 years the growers have succeeded in making the stems sturdier and stronger with a long vase life. As the 'Yoga' Rose has a garden-style bloom, they must be picked open (not in closed bud as they would not have enough energy to open fully). Hence, these fabulous Roses are especially selected and harvested open for us, and sent immediately to our Belgravia boutique to arrive within only 24 hours of picking, a luxury that no other U.K. florist can supply. 
Another Spray Rose in the Collection, "Keisjers Coral," is  a real beauty from Dutch grower De Opstal, one of the few Spray Rose growers to still exist in the Netherlands. This stunning Rose has a very special colour, very limited availability and is a personal favourite of the grower. He has very kindly reserved most of his production for us!
We have two other magnificent Garden Roses in the Collection: "Country Blue" and "Peach Campanula." These single bloom Roses are actually from Ecuador from a sustainable grower, FSQ. Garden Roses need a lot of light and heat to grow. This has unfortunately become too expensive in the Netherlands, outside of the summer months, due to recent increases in energy prices. Ecuador has the perfect climate for growing Roses all year round. Planted outdoors (protected) on the volcanic mountains at 2000m altitude, the plants benefit from maximum light, sunshine and cool nights resulting in very high quality blooms. Some of FSQ's Roses have untraditional head shapes and centres, blooms which in earlier years the breeders would never have pursued. Due to increased public awareness and communication between breeders and florists, mostly thanks to the internet over the past 10 years, unusual shapes created naturally by botanical "mishaps" are becoming more popular and widely available as breeders and growers cater to the eclectic tastes of their customers in search of something new.
Another unusual bloom we have used in the designs is a beautiful pale purple Clematis called "Amazing London." Clematis are fabulous garden plants that climb up walls and over arches and flower in late spring and again after pruning. The star-shaped flowers were introduced as cut flowers only 6 years ago after breeders succeeded in creating bigger heads and stronger stems. This "Amazing" range, developed by renowned breeder, Kolster, is available all year round with many varieties named after different cities around the world. "Amazing London" is nevertheless the most rare and unique as it has one single, much larger head, opposed to other varieties with a smaller bloom and side buds. 
Gerberas are also "modern" flowers that are available today thanks to the innovative work of the breeders. These large daisy-like heads are now available in hundreds of colours and different shapes. I have fallen in love with the new, double Peony-style mini Gerberas, known as Gerpony, due to their fullness and large petal count. The "Zenna" variety was created by Holstein Flowers who specialise in Germinis with an ever increasing portfolio of new breeds now totalling 140. Before the energy crisis there were dozens of Gerbera growers but these have now been reduced to only 5. Gerberas are true "summer" flowers, meaning they reproduce annually from seeds, which facilitates the development and production of new varieties for the breeders who can create 1,000 new plants in a laboratory using the DNA of just one leaf. 
Eustoma, or Lisianthus, are also true "summer" flowers and have been available as a cut flower since the 1930s. They originated from North American where they grew wild and were know as the Prairie Gentian. For our Summer Collection I selected the unusual double, curly-shaped flower "Alissa Yellow." This deep yellow, along with the ruffled edges of its petals, is most unusual for a Lisianthus and has a tropical feel to it reminiscent of the coral I saw in the Maldives.
Hydrangea are one of my favourite summer blooms and Sonneveld Brothers have been supplying us with extraordinary flowers for more than a decade. For this summer's collection, I selected an exquisite bloom from their exceptional portfolio of at least 30 varieties  - "Milka," for its very subtle and unusual pale mauve colour. With only a few stems available each year this Hydrangea is very rare and exclusive. 
Dianthus are another fluffy, petal-rich flower and we have selected a deep pink variety in an unusual shape from the only Dutch Dianthus grower, Mediaverde. Carnations, or Dianthus, are mostly produced in Kenya, 60% of production is white, and most of the rest is classic pink and red. In the Netherlands however, Mediaverde is producing rare varieties in unusual colours and even different shapes. Owned and run by three generations, they grow Viburnum Opulus in the darker, colder winter months as "Snowball" flowers don't require much light or heat, and they plant their Dianthus in March to bloom in June/July until November. Available in small quantities, these beautiful flowers are rare and we are privileged to have them. It is only thanks to Mediaverde's dedication to growing unusual varieties - that Kenya would not dare to undertake - that these flowers are available, albeit in limited quantities.
In our impressive tall table arrangement we have added some additional flowers for height, Anthuriums, Anthirinums and the lovely scented Matthiola. Our Anthurium "Purple Milanello" is a particularly unusual colour. Most Anthurium growers produce only white and red flowers since these are the "best sellers." Our grower, Jan van de Velden, on the other hand, only works with rare varieties in unusual shapes and colours selling to select florists. Anthuriums are available all year round, despite the energy crisis, because they don't need much light and hence the grower can insulate the glasshouse to maximize the heat. Anthirinums, on the other hand, are true "summer" flowers since they reproduce annually from seeds. The lovely "Costa Apricot" adds a dash of summer glow to our design. 
Adorning our luxury bouquets and arrangements, we always have exclusive Orchids, Phalaenopsis and Vanda, to add that unique look to our designs.  Both the "Nitaya Royal Purple" Vanda from Ansu and the limited edition "Royal Peach" Phalaenopsis from Walter Grootscholte are exceptional examples of the talent of these revered growers. Our Orchid Planter is created with a very new and exclusive Phalaenopsis, "Belle Helene" from Optiflor, first introduced last year and distributed to only a handful of Europe's best flower shops so we are extremely proud and grateful to be able to include this rare specimen in our "Ocean Sensation" Summer Collection. 
For our luxury gift set, the "Ocean Sensation" Petite Couture design is accompanied with our fabulous fragranced candle "Cassis Noir." I love the fruity top and heart notes of blackberries, blueberries and blackcurrants in this candle, balanced with the base notes of moss, wood and musk. It is the perfect candle to burn in the summertime!
This new Summer Collection also marks the first time that we include an arrangement made with faux flowers. I personally source the most realistic and botanically exact faux blooms for our faux arrangements and while they cannot compete with the beauty of fresh cut, real flowers, this new Netherlands' "Pluck Look" design is a show-stopper that people will have to touch to believe! Furthermore, since the flowers will last indefinitely, you can try your own hand at arranging them if you wish to refresh the design.
I hope that all these details about our extraordinary flowers have been of interest and that our designs will give you immense pleasure during the summer months to come.