Back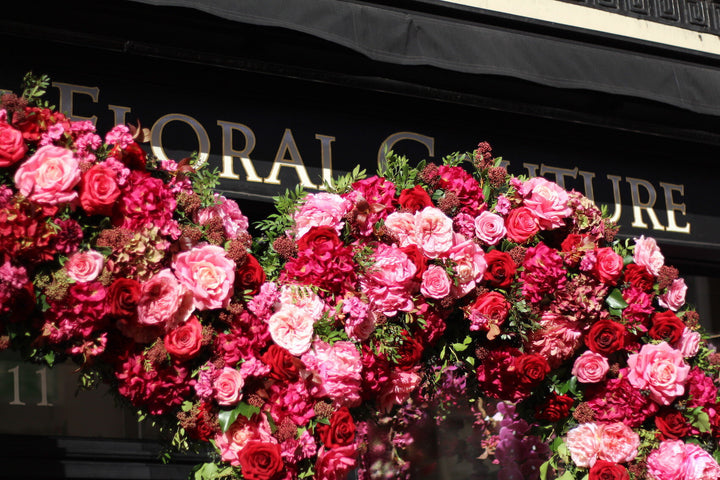 A Look Back At The Highlights Of 2019
2019 marked the beginning of a new decade of trading in Belgravia for Neill Strain Floral Couture. Neill remembers the highlights of this busy and exciting year and shares fabulous images of the extraordinary store front displays throughout the year including Belgravia In Bloom as well as lots of glamorous event work, visits to his Dutch growers and much more…
2019 marked the beginning of a new decade of trading in Belgravia for Neill Strain Floral Couture. Neill remembers the highlights of this busy and exciting year and shares fabulous images of the extraordinary store front displays throughout the year including Belgravia In Bloom as well as lots of glamorous event work, visits to his Dutch growers and much more…
Every year, on the first of January once the whirlwind of Christmas is really over, I like to ponder on all the events that took place during the previous year and honour the highlights in a blogpost. 2019 was a remarkable year launching into our second decade of floral couture in Belgravia with business, and my fabulous team, continuing to grow steadily. Overall we have been extremely busy with grand scale hotel contracts, more and more homes to style, exciting partnerships with luxury brands, extraordinary events in magnificent venues including the iconic Engage Summit that was held in London for the first time, not to mention the everyday running of our luxury, Belgravia boutique and the concession at Harrods.

To celebrate the new decade of Neill Strain Floral Couture in Belgravia, we launched our very own range of fragranced candles. Seven divinely scented candles inspired by the fragrances of the Belgravia boutique and my experiences as a floral designer. This was a dream I had been working on for years and seeing these luxury candles finally come to life was a great thrill - and enjoying them in my own home even more so! Furthermore, I am delighted to say they are now also available at Harrods and proudly on display in the fragrance halls on the third floor.
While there were many spectacular special events during 2019, one of the most memorable was for Amelia Liana. The Belgravia One venue with its magnificent fireplaces, majestic stairwell and high ceilings was a pleasure to decorate and I adored the romantic designs we created with an excessively opulent amount of Orchids!
Another inspirational event we worked on was the internationally renowned Engage Summit. During four days of exceptional venues and activities for the guests, we decorated the Dixie Queen on the Thames for the summit's first night after party. A life-size Yeoman Warder made entirely with different varieties of Dianthus wearing an impressive floral crown greeted the guests on deck, while inside, the boat was literally decked with flowers from port to starboard. We also created a gigantic floral Union Jack with hundreds of Hydrangeas and Dainthus to act as a backdrop for photos.
Our Belgravia boutique is the place where we create seasonal exterior displays and over the past ten years we have witnessed how these have influenced other boutique owners and designers in London and all over the globe. Here are some of the displays we created in 2019 including our design for Belgravia In Bloom with the theme of "The Language of Flowers" inspired by our fragranced candle No. 11 (named after the boutique at 11 West Halkin Street).
These store front displays bring us a lot of activity on social media so I thought I'd share a few of hundreds of postings created by our fabulous friends and followers.
Many of the big highlights of the year are always my visits to my growers in Holland and this year was no exception. Here are just a few memories from some of these visits to Ansu Vanda, Sonneveld (Hydrangea), Ichtus Flowers (Phalaenopsis), VIP Roses, our Lily of the Valley and Sweet Pea growers. I would like to take this opportunity to thank all of our extraordinary growers for their continued brilliance and dedication to growing the most spectacular flowers in the world for us.
Neill x