Back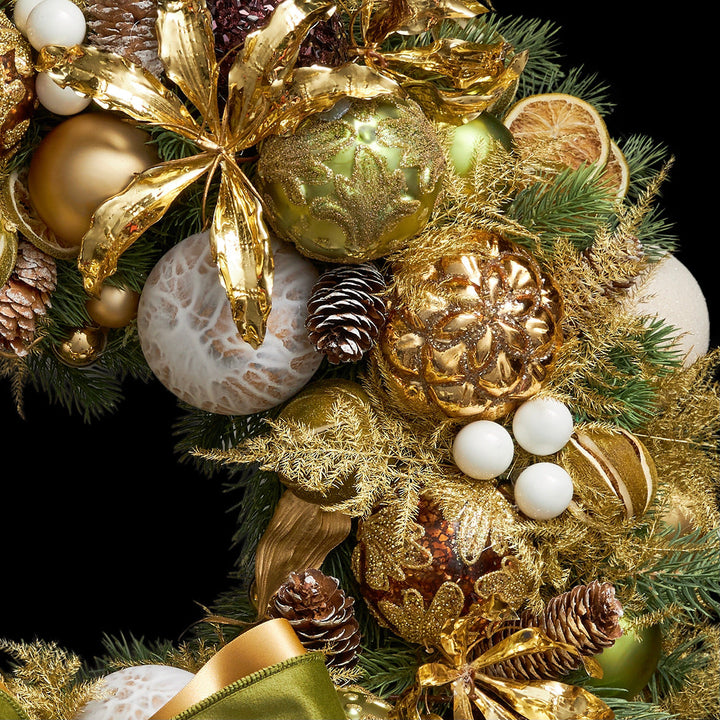 Neill's Christmas Collection for 2021
Neill has introduced a new Christmas Collection for 2021, a 
fabulous
 array of Christmas designs that can be ordered online and delivered throughout London. From door and advent wreaths to hand-tied bouquets or fresh floral and candle arrangements, his designs are exceptionally opulent and sophisticated and will enhance the beauty of your home or make an exceptional gift.
I am delighted to introduce my new 2021 Christmas Collection along with the colourful installation we have created for the Belgravia boutique on West Halkin Street. After another challenging year, I wanted to spread the joy and cheer of Christmas and, I think, the bright colours, the playful candies and dazzling extravagance of this display does just that.
The inspiration for this year's Christmas Collection designs came to me from both sides of the Atlantic... We have two ranges, one in glamorous golds, pale greens and whites, "Winter Waltz," the other in traditional reds and greens, "Red Rejoice." The Winter Waltz range celebrates the opulence and grandeur of the Baroque-style American Gilded Age, while the reimagined Red Rejoice range remembers the elaborate Christmases of the Victorian era - with a contemporary twist. Every item is carefully hand-crafted by our team of talented florists using the most exquisite decorations, that I sourced during the year, and flowers which are selected especially for us by our champion growers.
Winter Waltz Christmas Door Wreath
Red Rejoice Christmas Door Wreath
Noel Christmas Door Wreath
Christmas Cheer Door Wreath
We have two additional door wreaths: Noel, in its organic tints and tones created with dried fruits, cinnamon sticks and fir cones as well as exquisite baubles and ribbon, and Christmas Cheer which has a delightfully bright and cheerful colour palette of frosty whites, festive reds and subtle greens including berries and dried fruits. Hence, we should have the perfect wreath for every door, taste and style! 
The fourth Sunday before Christmas is this weekend, and therefore it's time to light the first candle on your Advent Wreath. Following popular demand, this year we are introducing these gorgeous rings of seasonal foliage and festive decorations to sit proudly on your dining room table during the countdown to Christmas. You can order online and we will deliver to your home or to a friend, anywhere in London. 
Other spectacular table arrangements with candles are our long and low designs and our signature Petite Coutures created with fresh flowers to which we have added tall tapered candles.  
In addition to decorating your home during the countdown to Christmas, our fresh floral bouquets make exceptional Christmas gifts which we deliver throughout London. Our Winter Waltz hand-tied bouquet includes some unusual gold Roses; a natural, fresh white Rose has been dipped in gold-coloured wax which acts as a protection to prolong the vase life. Mixed with rare Vanda Orchids and lucid Phalaenopsis, frilly Gerberas and much more, this bouquet is quite a show-stopper. 
Our Red Rejoice bouquet also combines Vanda Orchids with alluring Roses and other jewels of the season. Order here.
Our dome arrangements are also created with fresh flowers and seasonal foliage, fruits and berries. A charming table arrangement that fuses the elegance of fresh flowers with the festive spirit of the season and composes an equally enchanting gift.
The most impressive and imposing of our fresh flower designs are these 1 metre tall arrangements crafted with Cymbidium Orchids, Phalaenopsis Orchids, Roses, Anthuriums and much more. These designs will lavishly decorate a hall or side table and as a Christmas gift, will wow and awe its beholder. London delivery only.
Phalaenopsis Orchids are one of our best sellers throughout the year, due to their elegance, structure and long life. Hence, this Christmas Phalaenopsis is a wonderfully festive way to dress your home for the season. 
Amaryllis, with their incredibly big, bold heads, are synonymous with Christmas. We source Amaryllis bulbs which have two stems instead of one, and with four flower heads on each stem, this new planter design will produce eight magnificent flowers, an exceptionally beautiful display. The bulbs are nestled in a clear, glass vase amongst festive baubles and need no maintenance. Order here.
All these fabulously festive designs are lavishly decorated in our luxurious style and I hope they will make your Christmas even more joyful and memorable. Due to limited supplies this year, however, I urge you to make your orders as soon as possible to avoid disappointment.
Merry Christmas!
Festively yours,
Neill x