Back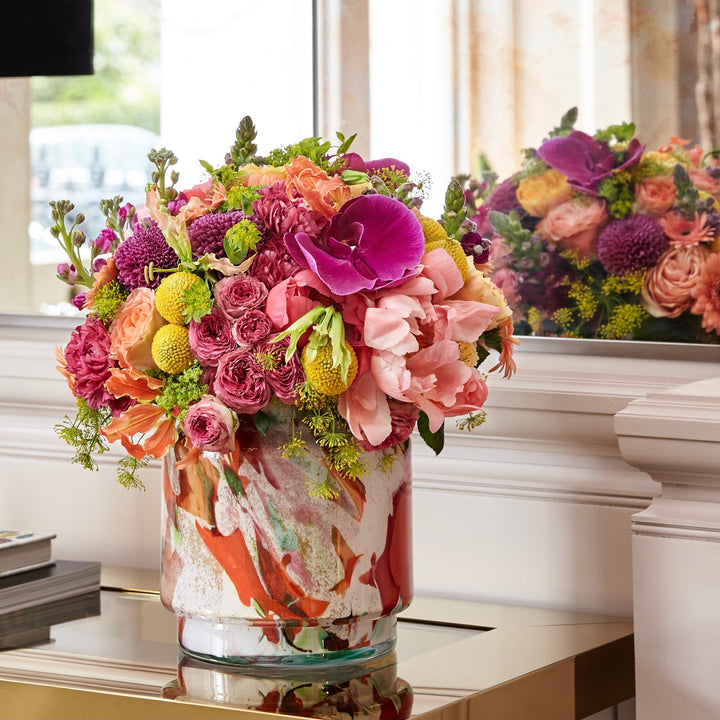 Neill Unveils his "Summer Sensation" Collection for 2022
A sensational display of bright summer colours, exciting textures, rare and extraordinary flowers together with exquisite artisanal glassware make up the new collection for summer 2022 at Neill Strain Floral Couture, entitled "Summer Sensation." Lavish and elegant, the designs are unveiled by Neill in this blogpost as he explains how he chose and sourced his magnificent blooms.
While we have been in full swing with the long-awaited Chelsea Flower Show, Chelsea in Bloom and Belgravia in Bloom, with more than a dozen of our installations adorning Belgravia's streets including our Belgravia boutique, the Halkin Arcade, Motcomb Street and beyond, we are now launching our new collection for summer 2022, "Summer Sensation." Available online, at our boutique and concession at Harrods, the designs are indeed a sensation of bright and cheerful colours in celebration of the warmth and delight of the summer season. 
The Collection comprises hand-tied bouquets in 4 sizes, table arrangements, a gift set including flowers and our fragranced candle "Belgravia," as well as a stunning, tall and elegant Orchid planter. We are also introducing some incredible glassware which can be ordered with the hand-tied bouquets; exquisite vases, hand-made and mouth-blown, each piece unique to enhance the natural beauty of our flowers.
As for all our collections, I have sourced the most magnificent seasonal flowers from the very best growers for our "Summer Sensation" Collection. Garden Roses, Spray Roses, Gloriosa, Peonies, Antirrhinums (Snap Dragons), Matthiola (Stocks), Gerberas, Craspedia, Dianthus and many more. Each flower is carefully selected especially for us at the growers and sent directly to our boutique to arrive within 24 hours of picking, to guarantee that we have the very freshest and most beautiful blooms available in London.
This new Collection is a real celebration of summer. The blooms I selected are quintessentially traditional summer favourites. The many Roses are special Garden Roses, "Kensington Garden" from our grower VIP, and fabulous Spray Roses from Voorn. While many Roses are available all year round now, thanks to the 'grow lights' in Holland's glass houses or being flown in from Ecuador or Kenya during the winter months, the most beautiful Garden Roses can only be grown in the natural conditions of summer after the plants have rested throughout the winter. The Garden Roses from VIP in general are one of the highlights of our summer and you can enjoy many of their magnificent blooms at the Belgravia boutique and our concession at Harrods. Not to be missed!
Visiting our Garden Roses at VIP in Holland.
Another gorgeous early summer bloom in the Collection is the "Coral Charm" Peony. This is a single Peony, opposed to the Double Peonies which are heavy, fluffy balls ladened with dozens of scented petals, many varieties of which you can find at the boutique and our concession at Harrods in lots of glorious colours from our remarkable grower, Groot & Groot. Their Peonies are very special. Grown outdoors so they are stronger and healthier, they are picked much more open than those of other Peony growers, so that the blooms have more strength to open fully and to stay looking their best much longer. With farms in South Africa, Southern France, Italy and Holland, they are expanding the Peony season to last many more months. At this time of the year, the Peonies are now coming from their farms in Holland.
I am both personally and professionally very conscious of the environment, climate change and our carbon footprint. With our growers, we have found that in many cases it is actually more beneficial for the environment to fly the flowers grown outdoors in more temperate climates than to use grow lights in glasshouses in Holland during the winter months. All the growers we work with are particularly intent in saving energy, not using polluted products, preserving the environment and reversing climate change. I think this comes naturally with a deep love of flowers and nature. 
Peonies growing in the grower's fields in Holland
Another typical summer flower in the Collection that is frequently found in the English garden is the Antirrhinum (also known as Snap Dragons and Lion's Mouth). We enjoy many varieties of these easy-to-grow blooms both in our gardens and as cut flowers today but we need to thank the monks in the sixteenth century for this... Monks all across Western Europe grew and created new breeds of flowers, Antirrhinums in particular. Their motives were for medical purposes more than decorative, but nevertheless they were Europe's first flower breeders! 
Gloriosa, a rare and unusual looking flower of great beauty, is another summer flower that's history is primarily medicinal. The flowers' seeds contain Colchicine, an anti-inflammatory which has many benefits. Today there are only a few breeders of this extraordinarily beautiful flower and we work closely with Van Ruiten in Holland, a family run business for 2 generations growing and breeding exclusively Gloriosa. Founded by Richard's father and mother in 1968, the parents, now 89 and 90 years of age, still work everyday in the glasshouse alongside their son. They have named 3 of their new Gloriosa varieties after the grand-daughters, "Jip," "Saar," and "Kato." I find these flowers add a real wow factor to our summer designs.
Richard Van Ruiten and his father at their Gloriosa glasshouse in Holland.
I adore Orchids as everyone knows! Our collections always boast many exceptional Orchids and this "Summer Sensation" Collection is no exception. Beautiful heads of "Purple Passion" Phalaenopsis from Walter Grootscholten, one of our amazing Orchid growers, adorn our hand-tied bouquets and low table arrangements while long stems trail from the tall arrangement. 
To these impressive designs we have also added a touch of tropical heat for the summer with the tropical blooms, Anthuriums and Heliconia, hence giving them an even more luxurious and exotic look.
The Collection also includes a striking white Phalaenopsis planter. A 6-stemmed Orchid, 1m20 tall, elegantly dressed with white twigs, stands in a stunning ceramic clay pot, created in limited quantities by one of Holland's most revered potters, a small company that uses only the finest ingredients and creates their own unique glaze colours. This pot is an unusual green with golden hues and perfectly enhances the beauty the majestic Phalaenopsis plant it contains.
Last but not least, the "Summer Sensation" Collection includes a delightful gift set. Our signature Petite Couture arrangement, created with the same sublime summer flowers, and our fragranced candle "Belgravia" which combines the complex sweet fragrances of Rose entwined with bewitching notes of Amber, Musk, Magnolia and Patchouli. 
While many of our designs, online and at our retail outlets, are presented in leaf lined clear glass vases, I have fallen in love with the mouth-blown and hand painted glassware of Fidrio, a small Dutch company whose mouth-blown vases you can purchase with your hand-tied bouquets here, or at our Belgravia boutique. This company's vision is aligned with my own, perhaps because the Dutch owners, Marcel and Danielle, started out with a florist shop. Their glassware are all unique pieces due to the traditional, artisanal way of blowing glass with a wooden mold. Their hand-painted vases (see below) make a visit to our boutique all the more worth while, so please drop by.  
I hope you have enjoyed reading this preview of our "Summer Sensation" Collection. If you wish to order flowers, we deliver throughout London and, as always, we look forward to seeing you at the Belgravia boutique or our concession at Harrods for any bespoke orders or special occasions you might wish to celebrate with flowers.
Florally yours,
Neill x