Back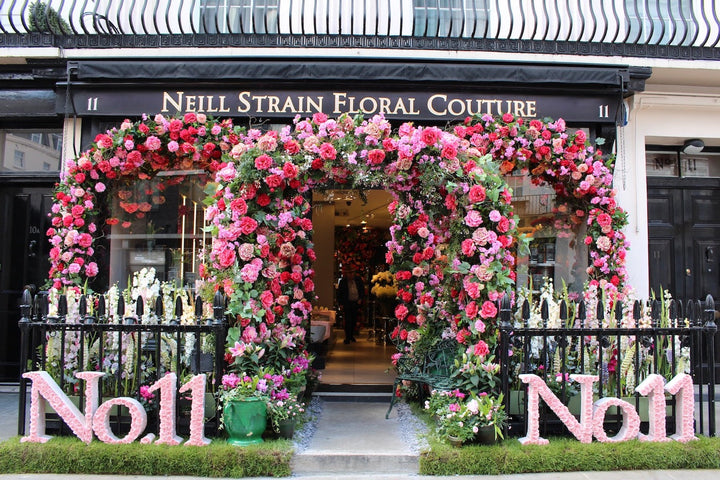 Belgravia In Bloom at No. 11
With the theme for this year's Belgravia In Bloom displays being "The Language Of Flowers," Neill Strain found inspiration for his Belgravia boutique design from his new No. 11 Fragranced Candle and the hidden meaning of the flowers which make up its exquisite fragrance. Neill shares with us his award-winning display, the flowers and their language.
With the theme for this year's Belgravia In Bloom being "The Language Of Flowers," Neill's inspiration for his Belgravia In Bloom design was derived from the flowers and fragrance notes that make up his new No. 11 Fragranced Candle and their meanings. In this blog post Neill shares with us his stunning display, the flowers and their language.
Every year I look forward to the Chelsea Flower Show and the opportunity to create theatrical floral displays at the Belgravia boutique. Long before Belgravia In Bloom was born, we were expressing our love of flowers and decor with lavish displays that were often based on one flower such as Roses, Orchids, Peonies and Tulips to name a few. Here are some of our previous displays from past years.
This year, to mark the launch of our new Fragranced Candles I wanted to dedicate one of the candles to Belgravia In Bloom. The most floral in the range is our "No. 11," named after the boutique at No. 11 West Halkin Street and inspired by the delightfully intoxicating sensation of scents you get when you walk into the boutique.
The primarily floral scents that make up the No. 11 Fragranced Candle are Lily of the Valley, Oriental Lily, Rose, Carnation, Violet, Geranium and Jasmine on the heart notes; Cyclamen with green and fruity flavours on the top notes and earthy Cedar and Musk on the base notes. We created lavish floral arches with Roses, Jasmine and greenery while all the other highly scented flowers were planted in stunning garden pots that lined the entrance to the boutique. We even placed a bench for people to sit and enjoy these delicious fragrances while admiring the beauty of Belgravia's architecture adorned with Roses.
Researching the language of flowers in the Victorian floriography books is fascinating. This language was used to convey one's sentiments in a discreet way particularly while courting. A cryptological form of communication! Flowers have had symbolic meanings for hundreds, even thousands of years but this way of sending coded messages became very popular in Victorian times since In Victorian society it was not acceptable to express one's feelings in spoken words. Hence "talking" bouquets (called nosegays or "tussie-mussies") were a delightful way of communicating in all seasons, as long as you had the same floral dictionary as meanings sometimes varied!
Cyclamen is the flower of deep, long-lasting love. Lily of the Valley is for happiness. Pink Roses mean joy and gratitude, sweetness and innocence, elegance and grace. Carnations are for love and affection. Lilies and violets portray devotion and fidelity. Geraniums are flowers for kindness and friendship. Jasmin is for sensual love and beauty… A carefully crafted cocktail of emotions to be experienced by flower-lovers visiting Belgravia In Bloom!
We created several displays for Chelsea retailers, inspired by the Chelsea In Bloom theme "Under The Sea." Here are our designs for Katharine Pooley on Walton Street (not in the competition) and for Brunello Cucinelli, which won a silver award.
Neill x