Back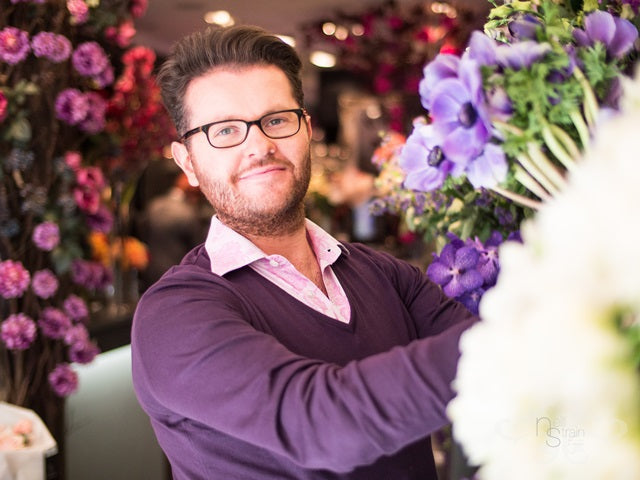 SPRING FLOWERS IN BELGRAVIA
The extravagant range of brightly coloured, lush textured spring flowers at The Flower Lounge is almost overwhelming.  Neill tells us about some of his favourite seasonal flowers.
Beautiful Blooms that Celebrate Spring
Spring is in full bloom at The Flower Lounge !
The scent of spring flowers is a joy that refreshes the mind and renews the senses. At The Flower Lounge, we are very proud of our spectacular range of seasonal blooms most of which we select directly from our Dutch growers, each the finest in their field. Many of these growers are now able to grow their flowers all year round, but the quality remains the best when the natural seasons are respected. So now is the time to enjoy Narcissi, Ranunculas, Tulips, Anemones, Hyacinths, Lilacs, Vibernum Opulus Snowball, alongside our ever-changing range of "all-year-round" flowers, such as Roses, Orchids and Lilies.
Every flower has a story and ANEMONES are no exception. In Greek, "anema" means "daughter of the wind," an appropriate name for a flower that sows its grains in the wind. Legend has it that Venus sprinkled a nectar on the blood of her dead lover, Adonis, and from this fusion grew the first Anemone, deep red in colour in hommage to Adonis' blood and Venus' passion.
Nowadays, there are about 150 varieties of Anemones, ranging from blues to reds, whites to creams, fucsia pinks to magentas. Part of the Renuncula(cean) family, they are generally tuberous-rooted perennials and, while a traditional spring flower, we have them in the boutique from December until May.
Our Anemones come from Italy and sometimes France. We're fanatical about the freshness and with an Anemone this is easy to see. Like Tulips, Anemones continue to grow in the vase; when picked the soft petals sit just on top of the cluster of leaf-like bracts (as shown above). As they continue to grow, the distance from these bracts increases, marking the reducing freshness!
Our tip to keep Anemones looking their best the longest : change the water every 2 to 3 days and re-cut 1 cm from the bottom of the stems at a sharp angle. Enjoy their bright colours and their distinctive black centres, and watch them continue to grow!
RANUNCULUS is another tuber-rooted perennial plant from the Renunculacean family, with more than 600 different species including the common butter-cup. Its latin name translates as "little frog" and is presumed to be due to its water-loving nature and preference to grow in proximity to streams and ponds. With a resemblance to the shape, colours and sweetness of macarons, these exquisite flowers are traditionally white or yellow, but now also available in salmon, peach, fucsia, red, aubergine and sometimes with a green centre.
With a myriad of wafer-thin petals, this delicate flower spells romance and tenderness. Its story is a romantic version of that of the buttercup.... Tradition says you place a buttercup under your chin and a yellow reflection tells your fondness for butter. Tradition also says you place a Ranunculus under your chin and the reflection will show the nature of your love life.
Our tip for arranging Ranunculus : remove all the leaves from the stems, cut the stem at a sharp angle and fill the vase half full with fresh water. Changing the water every 3 days will increase the vase life of the flowers.
Watch this space for more information and tips on flowers... we have lots more stories to share !
In harmony with our passion for flowers, Neill Strain Floral Couture is all about DESIGN. We have an extraordinary selection of flowers but it's how we arrange them that makes the difference, whether it be the smallest bouquet or a large installment, however simple or sublime...
So next time you're in the neighborhood, do pop into the boutique and let your senses enjoy the pungent pleasures of the season. Let's celebrate together the excitement of spring in its full floral splendour.
Florally yours,
Neill xx
All images by John Nassari, www.johnnassari.co.uk