Back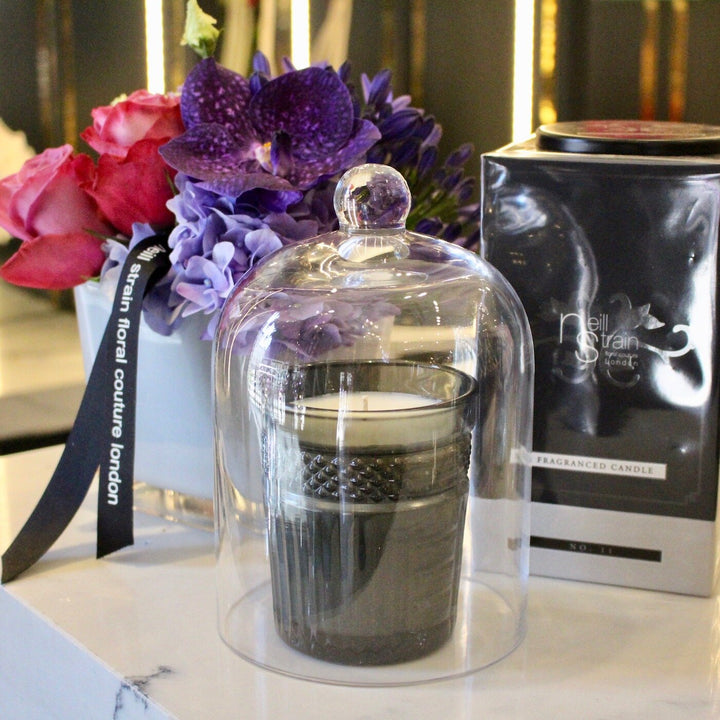 The Joy of Fragranced Candles in Summer
With nature and the seasons being a prime inspiration, Neill explains the best ways of enjoying his luxury fragranced candles during the summer months along with tips on how to blend different fragrances by burning two candles simultaneously for a custom, personalised effect.
With nature and the seasons being a prime inspiration, Neill explains the best ways of enjoying his luxury fragranced candles during the summer months along with tips on how to create your own fragrant experience by burning two different candles simultaneously for a custom, personalised effect.
Following many years of working with flowers I have acquired an acute sense of the fragrances associated with the seasons. What is spring without the scent of Hyacinths, fragrant Roses in the early summer, the earthy notes of wet grass and falling leaves in the autumn along with sweet, sticky, juicy berries and of course the strong scents of pine, orange peel and much more that makes us think of Christmas?
Just as there are 3 primary colours from which are derived a full spectrum of tints and tones of every hue, there are four types of olfactory fragrances which can be blended to create a full spectrum of delicious scents. These four types are floral, oriental, fresh (green and citrus) and woody. While creating my range of seven fragranced candles, I was inspired not just by the seasonality of the floral fragrances but by carefully blending and balancing the other three elements with the florals. Fragrances in general are classified into three classes or groups of scents: top/head notes, middle or heart notes and base/bottom notes. These notes relate to the intensity and longevity of the fragrances and understanding them is crucial for producing a balanced, harmonious result.
Top notes give elegance and grace and "fresh" citrussy fragrances or delicate florals work best here. Heart notes offer the main body of the fragrance, usually floral or oriental but they can also be fresh or woody. Base notes are important for the balance of the fragrance, they are the scent that lingers on and is the most intense, hence woody and oriental fragrances are the most common here. While each of my fragranced candles was designed to be perfectly enticing alone, I enjoy being creative sometimes and burning two candles together to make a whole new fragrant experience. By looking at the contents of each candle and what fragrances blend well together, you too can develop the confidence to be an alchemist with my candles!
Belgravia has very fresh, elegant top notes of Citrus and Bergamot (which is intensely citrusy but more complex and refined than other citrus scents) along with Cassis; heart notes are divinely floral (Rose and Magnolia, the scents of spring and early summer) while the base notes are robustly woody with Amber and Cedarwood (a scent similar to Pine) balanced with oriental Musk and Patchouli, an oriental woody fragrance. This candle is a pure delight alone yet in the summer months you might like an uplifting more woody, fresh - and cooling - fragrance and therefore try burning it with our Verdure.
With its fresh, green character, Verdure is the perfect candle to mix with any floral fragranced candle in the warm summer or early autumn months. It's top notes are light and citrussy while its heart notes are delightfully green and woody with fresh basil, aromatic thyme and herbaceous Cypress along with Papyrus leaves which are both aromatic and woody, earthy and spicy. The base notes include Cedarwood and Musk, also found in Belgravia, with the addition of the more woody and oriental notes, Sandalwood, Smokey Vetiver, Incense and slightly sweet Balsamic. Hence, burning Verdure with Belgravia transports the Rose and Magnolia heart notes into a refreshing summer or woody autumn experience.
For the ultimate autumn experience, try Verdure with Cassis Noir. French for black currant, this candle's top notes are richly fruity of Blackberries, Blueberries and Blackcurrants. The same dark berries along with a hint of pastry make up the heart notes. Such a delicious concoction! All balanced with base notes that are green, mossy and woody with the intense, slightly sweet and earthy, oriental flavours of Musk. In this way, Verdure tones down the ripeness and sugariness of Cassis Noir creating an even deeper and richer experience.
Verdure can also be burned beautifully with our No. 11. The latter is the most floral of all our candles. With green and fruity, fresh top notes, the heart notes conjure up the profound fragrance of a bouquet of late spring and summer flowers… Lily of the Valley, Oriental Lilies, Roses, Carnations, Violets, Geraniums and Jasmine, grounded with the woody and oriental notes of Cedar and Musk on the base. The essence of summer, Verdure and No. 11 together take you on an imaginary walk through an abounding summer garden in full bloom.
Two more candles in the range marry well together, Rose & Oud with Santal d'Orient. Both these candles are more oriental in style and together are quite extraordinary. Rose & Oud is the most exotic and seductive in our range. Incredibly rich and intense, Oud is known as liquid gold because it costs almost double the price of gold. Softened by the sweetness of the Rose, along with Geranium, Jasmine and a hint of Praline on the heart notes, it's base notes are both woody and oriental with Cedar and Sandalwood, green Vetiver, Amber and Musk, with the added sweetness of Vanilla, Patchouli and Raspberry.
Santal d'Orient shares similar traits in style as Rose & Oud. Spicy Cardamon, Nutmeg and Cloves make up the top notes. Heightened florals on the heart notes come from the exceptionally sweet and slightly fruity flowers, Ylang Ylang, balanced by the green and woody scents of Patchouli. On the base notes are woody Cedar and Sandalwood and green Vetiver, as also found in Rose & Oud. These two candles are particularly harmonious and sensuous when burned simultaneously.
Neill x