Back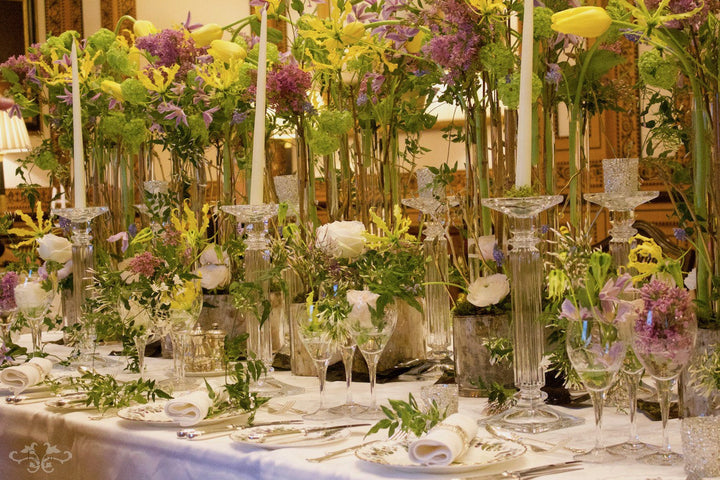 A Look Back at 2018
In 2018 Neill Strain Floral Couture celebrated its 10th anniversary and what a year it was! Neill gives us a brief history of 10 years of business and remembers the highlights of 2018 recalling the visually striking and some award winning designs created throughout this historic year.
In 2018 Neill Strain Floral Couture celebrated its 10th anniversary and what a year it was! Neill gives us a brief history of 10 years of business and remembers the highlights of 2018 recalling the visually striking and some award winning designs created throughout this historic year.
It's been ten years of fabulous flowers, inspirational designs and hard work with a lot of passion and satisfaction. I opened my first boutique on Ebury Street in the heart of Belgravia in 2008 with no clue of what the next ten years would bring me and today, of course I am absolutely delighted. We launched the boutique on West Halkin Street in 2011, followed by the concession at Harrods in 2016. And to celebrate our 10th anniversary I completely redesigned and refurbished the Belgravia boutique to the highest level of luxury and efficiency that I could only have envisaged after ten years of experience.
Over ten years I have built up an extraordinary network of exceptional growers in Holland who dedicate their lives to producing the most magnificent flowers in the world which we are lucky to be able to share with our clients in Belgravia and at Harrods. Without their expertise and dedication, my business would not be the same. We are so proud of our flowers, knowing that we have the very best, the most rare and can even find the unobtainable on occasion! It has also taken ten years to build up my highly talented team who now embrace my knowledge of flowers and the love for what we do. Being a florist is not an easy job and I am grateful to every one of them.
2018 started with a new contract at the Jumeirah Carlton Tower Hotel, a growing team to work on it and lots of room for inspiration for the coming year. In no time Valentine's Day was approaching and our floral heart was erected for lovers to enjoy making photos for their Instagram accounts! The social media success of our boutique exterior installations throughout 2018 has been absolutely phenomenal to the extent that it's sometimes quite hard for clients to enter the store! But we are delighted as our social media followings have exploded while the Belgravia residents enjoy the decor. Here is just a sampling of postings by men, women and dogs that love our flowers…
Since we opened our concession at Harrods in 2016, we have worked closely within the iconic store decorating halls and areas with our floral designs as well as creating designs for other concessions and suppliers. For Valentine's 2018 we adorned the Food Halls with pale pink Roses.
Shortly after a very busy Valentine's Day we participated in BRIDES IN BELGRAVIA at the Lanesborough Hotel for the third year running, in collaboration with Brides' Magazine and the Grosvenor Estate. Our theme for the wedding display was "Spring" and we created a design that combined romance, elegance and the abundance of Spring in the colours of the season with Tulips, Viburnum Opulus, Lilac, Roses, Jasmin and stunning yellow Gloriosa flowers.
In addition, we created florals to decorate other exhibitors' displays such as for these gorgeous shoes by Christian Laboutin.
And here are our designs for the fashion show along with some bouquets to enhance the gowns.
Our Frida Kahlo inspired designs, part of the Summer Collection.

There were many special moments with the growers during my sourcing visits in Holland… We obtained the exclusivity of an incredible new, white, scented Rose grown by the Sassen brothers for VIP Roses which we named "Belgravia" to join their impressive range of garden Roses named after London landmarks. The very limiited production of this stunning garden Rose is available at the Belgravia boutique and our concession at Harrods when in season.
In August, Harrods hosted its highly acclaimed "Rarity Campaign" which included such rarities as an 18-karat gold-plated Renaissance clock, a signature Rolex watch made of sapphires and diamonds, white pearls Almas caviar, a signed portrait of Albert Einstein, and many more astonishing products and experiences. We were asked to provide a very rare flower and thanks to my contacts in Holland we were able to do so. Gloriosa is a relatively new flower in the cut-flower industry, available in red, pink, yellow and orange. White is a colour that cannot be created by the breeders. It only comes by nature and in Gloriosa it was one "accident in nature" in 2008 that allowed one Dutch breeder/grower, Bennie Ruizendaal, to produce it. Just perfect for the "Rarity Campaign." Hence, Bennie's entire production, only about 200 flowers per year, was grown especially for the Harrods Rarity Campaign and the actual 20 plants that produce them were at our concession so we could literally cut the flowers for clients upon request! Thank you Bennie for trusting us with your priceless plants!
My visits to the growers each year are always a highlight and 2018 was no exception. In addition to visiting the Gloriosa and VIP Rose growers, I discovered new cacti and succulent growers while researching for our Frida Kahlo design, the growers of exquisite Delphiniums, delicate Lily of the Valley, Peonies and many more as well as the fabulous showgarden of Holland's most reputed Dahlia plant and tuber producer from where I was able to bring back to Belgravia many rare garden Dahlias never seen before in the U.K.
Visiting the Cacti grower
Cacti grower
Up to century old Cacti
Succulent Grower
Our Lily of the Valley Grower
Delphinium Grower
Dahlia grower for our "Cafe Au Lait"
Our outdoor grown Peonies
Jan and Richard van Ruiten Gloriosa grower
Alpen Pauline Dahlia
Jan and Elly Geerlings Dahlia producers
Le Feu du Soleil Dahlia
Autumn brought us many joys, one of which was giving workshops at the new Belgravia boutique to create Pumpkin designs. Here are a few fond memories.
2018 came to a beautiful end with an extremely busy Christmas season and much appreciation of our snowy white exterior display at the boutique.
Neill x